Institute of Chartered Accountants of Pakistan (ICAP)
ICAP is a prestigious professional accounting body in Pakistan that was established in July 1961 with a prime objective of regulating the accounting profession in Pakistan. Currently it supports more than 10,000 chartered accountants in their professional growth and development.
ICAP also plays a vital role in collaboration with State Bank of Pakistan, The Security and Exchange Commission of Pakistan, The Federal Board of Revenue and other ministries to strengthen the regulatory framework in Pakistan.
CA at CAMS
CAMS has been affiliated with ICAP since 1994. Being the first college in Karachi, CAMS has the most experienced faculty and the largest number of Alumni of chartered accountants located all over the globe.
With its innovative pedagogy blended with exposure to corporate sectors, CAMS graduates develop an in-depth knowledge of Accounting, Audit and Taxation practices in Pakistan. The mandatory 3.5 years of audit training with chartered accounting firms gives our graduates an opportunity to apply knowledge practically and at the same time start off with national as well as global professional careers.
Schemes of Entry / Eligibility
The Institute provides entry to students from diverse disciplines i.e. Commerce, Science or Arts and from various educational levels such as Higher Secondary School Certificate / A Levels, Graduation and Post-Graduation.
There are two schemes of entry:
Full Time Studies Scheme

Trainee Scheme
Fulltime Study Scheme is for those students who have completed Intermediate (HSSC), A' Levels or equivalent qualifications. The minimum requirement for this entry route is:
HSSC (Intermediate) – minimum 50% marks

A, Levels – minimum 2 passes
Trainee Scheme is designed for undergraduate and post-graduate degree holders. Two -years or four -years degree holders from 'Specified Degree Awarding Institutes – (SDAI)' are exempted from all 4 papers of Assessment of Fundamental Competencies (AFC). Whereas, degree holders from 'Non Specified Institutes' can claim exemptions from all or some AFC papers depending on their courses and grades.
Students entering in to the profession through Trainee Scheme have the options of joining CA firms for the required training and simultaneously study for their AFC and CAF papers.
The minimum entry requirement is 45% marks in respective degree
Further clarification of entry routs to quality as a Chartered Accountant is as follows.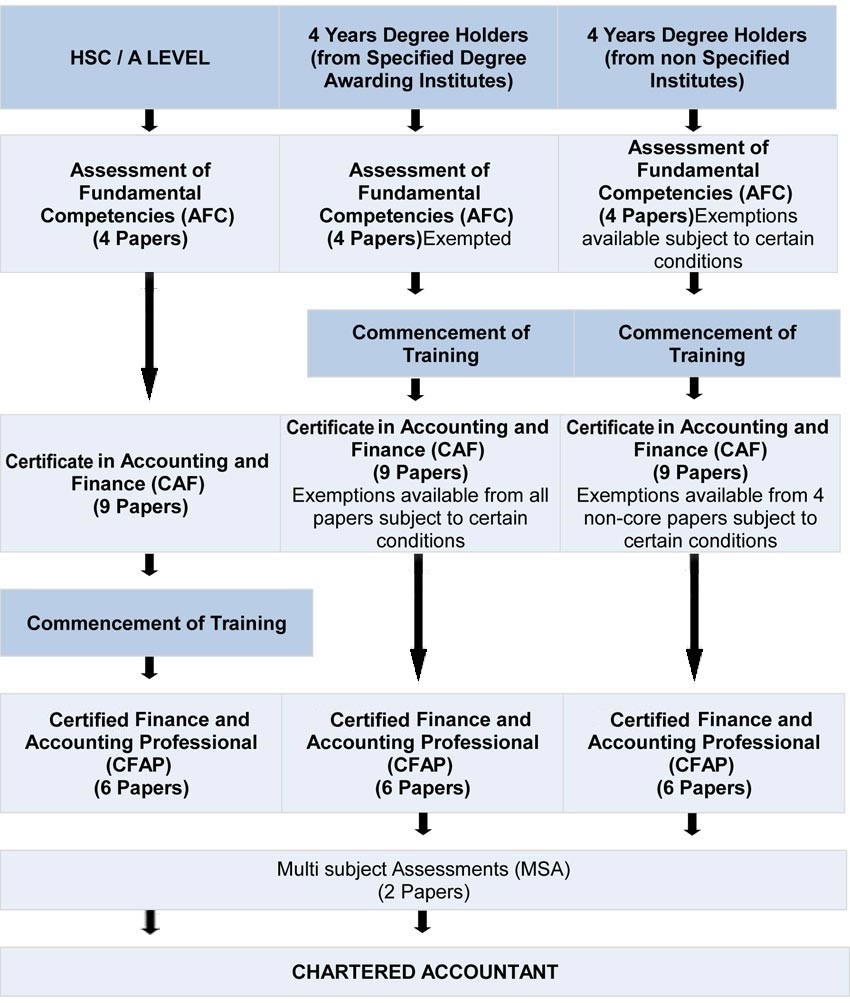 The CA scheme is transformed to 4 tiers. Completion of each level will not only allow a students to have a standalone certification but they will also be able to play a support or operational role in any organization.
Assessment of Fundamental Competencies (AFC)
Functional English (AFC-1)
Business Communication (AFC-2)
Quantitative Methods (AFC-3)
Introduction to Information Technology (AFC-4)
Certificate in Accounting and Finance (CAF)
Introduction to Accounting (CAF-1)
Introduction to Economics and Finance(CAF-2)
Business Law (CAF-3)
Business Management and Behavioral Studies (CAF-4)
Financial Accounting and Reporting 1 (CAF-5)
Principal of Taxation (CAF-6)
Financial Accounting and Reporting 2 (CAF-7)
Cost and Management Accounting (CAF-8)
Audit and Assurance (CAF-9)
Presentation and Communication Skill Course – I

Presentation and Communication Skill Course – II
Certified Finance and Accounting Professional (CFAP)
Advanced Accounting and Financial Reporting (CFAP-1)
Corporate Law (CFAP-2)
Business Management and Strategy (CFAP-3)
Business Finance Decisions (CFAP-4)
Advanced Taxation (CFAP-5)
Audit, Assurance and Related Services (CFAP-6)
Multi Subject Assessment (MSA)
Financial Reporting Professional Competence (MSA-1)
Audit Professional Competence (MSA-2)
Bachelor's degree holders are exempted from some or all papers of AFC and CAF levels. Students who pass their HSSC and A 'Level exam with good percentage/grades may claim exemptions from all or some of AFC papers on the basis of their grades in relevant papers for which they are seeking exemptions.
For further clarification on exemptions, please email scanned copies of your certificate/degree, transcripts and any other relevant documents that you may feel will be helpful for the assessment of exemptions at info@cams.edu.pk (please mention "Assessment of exemption for CA" in the subject line)
Scholarship / Financial Assistance
We do offer merit scholarships to students on the basis of their academic performance and extra-curricular activities and those students who are unable to meet their tuition expenses can apply for the financial aid on the prescribed FA forms that are available in Admin Office. They are required to attach the supporting documents to prove their academic performance or need of the financial aid.
Students and parents will later be called for the interview by the Admission Committee. The committee will inform its final decision within two weeks of the interview.
PECHS Campus:
Ms. Hira Nabeel
175-P, Block 2,
(off Shahrah-e-Quaideen, near
Allahwala Chowrangi)
PECHS, Karachi-Pakistan.
Tel: (9221) 34194027 & 29 / Mobile: 92-349-4416491